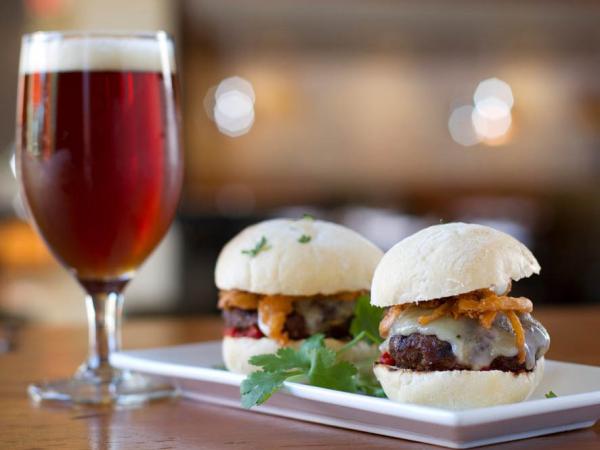 Break out the beer and buffalo wings – it's time for Super Bowl 50, and you can beat the big city Santa Clara crowds by watching the big game right here in Sonoma County. Gather your friends, and set up your cheering camp at these great sports shrines.
Healdsburg Bar & Grill
The TVs are front and center at this stylish bar managed by celebrity chef Douglas Keane. Besides local beers on tap, the popular, always busy restaurant has great food – Food & Wine magazine includes it on their "25 Best Burgers in the U.S. list." You can sure taste the quality – the pickles are homemade, and the fish 'n' chips are beer batter dipped.
Details: 245 Healdsburg Ave., Healdsburg, 707-433-3333.
Russian River Brewing Company
This legendary hangout is famous for its uproariously popular Pliny the Younger release each year. Yet every day, brewmaster and owner Vinnie Cilurzo also offers up traditional (think aggressively hopped) California style ales, Belgian inspired ales, lagers and barrel aged beers. Just a few of the year-round specialties include Blind Pig, Damnation, Pliny the Elder, Beatification, and Consecration. You can sip at the recently remodeled bar, order suds samplers off the chalkboard, listen to rousing music, and dive into top notch fare like a meatball sandwich or hearty calzone.
Details: 725 4th Street, Santa Rosa, 707-545-2337.
Olde Sonoma Public House
Start with the four large TVs, add in multiple dartboards, a pool table, 32 beers on tap, a pinball machine, table games and free popcorn, and you're in for a party. This dark, cozy pub is festive all around, and a true locals' hideaway.
18615 Sonoma Highway, Sonoma, 707-938-7587.
Carneros Brewing Company
The Ceja family is known for its excellent craft beers brewed on site, and warm, welcoming (plus rather secret) atmosphere in a rural area of vineyards and dairies. Several TVs beam sports, and during commercials, you can play corn hole (a bean bag game), Loteria (Mexican Bingo) and shuffleboard (oh wait, part of the Super Bowl experience is the great commercials). Craft beers are on tap, including seasonal, and you're welcome bring in your own food, should you crave more than the chips, pretzels and jerky offered here.
Details: 22985 Burndale Road, Sonoma,  707-938-1880
HopMonk Tavern
There are two locations, in downtown Sonoma and downtown Sebastopol, and the bars boast TVs next to Hopmonk's own beers on tap, plus many beers by the bottle from around the world. It's dark and cocoonish inside, just the thing to concentrate on the game, but you can stretch your legs in the large outdoor dining areas and beer gardens, too. Plan to eat well, from an extensive menu ranging from ploughman's platter to tacos to cider glazed salmon.
Details: 691 Broadway, Sonoma, 707-935-9100. Also 230 Petaluma Ave., Sebastopol, 707-829-7300.
The Saloon at Jack London Lodge
The Victorian parlor mood somehow works wonderfully with this classic pub anchored by a big screen TV, and amenities like an antique polished bar, a pool room, and a mostly local clientele. Keep your game energy charged with burgers and fish 'n' chips. Then, at halftime, chill out on the patio overlooking Sonoma Creek.
Details: 13740 Arnold Drive, Glen Ellen, 707-938-8510.
Ausiello's 5th Street Grill
Cold beer, peanuts, TVs all around – does it get better? The dark, clubby saloon is bar is popular with real sports fanatics, who aren't afraid the get loud. When the hunger pangs hit, be sure to get a burger and sweet potato fries, extra-delicious with the signature bacon Bloody Mary.
Details: 609 5th Street, Santa Rosa, 707-579-9408.
Fogbelt Brewing Company
This new gem encourages playtime with a collection of board games sitting beneath the television. But the real draw is the beer, with brewers Paul Hawley and Remy Martin using exclusively California-grown hops. The urban hip taphouse puts forth signature sips like Atlas Blonde ("light and crisp with a fruity hop aroma"), Del Norte IPA ("hop driven with a malty finish"), and Armstrong Stout ("rich with flavors of chocolate and coffee but finishes light and balanced"). Ask for perfect pairings with the extensive food menu, too, tempting with signatures like local charcuterie, sausage and cheese boards, gourmet sandwiches and mac 'n' cheese.
Details: 1305 Cleveland Avenue, Santa Rosa, 707-978-3400.
Pub Republic Petaluma
This cheerful sports bar and upscale eatery woos with uncommon plates like Brussels sprouts tacos, potato nachos and truffle burgers. To go with: an excellent selection of beers, including sampler flights, a wide array on tap, bottled locals and imports, and even gluten-free brews. Sit at the bar for the best TV views.
Details: 3120 A Lakevill Hwy, Petaluma, 707-PUB-9090
Find the Super Bowl Sonoma County Guide here.
– See more at: http://www.sonomacounty.com/articles/top-sports-bars-and-pubs-super-bowl-watching-sonoma-county#sthash.VJFPjWLk.dpuf