The Best of Sonoma!

Welcome to the Best of Sonoma, the premier showcase for the gourmet foods, dining, specialty services, hotels, recreation and wines that are made in and reflect the ambience and quality lifestyle of the Sonoma wine country.

Here you will find unique artisan foods, beverages and services by Sonoma producers who have online stores or invite you to visit them at the source. Be it a weekend getaway, a biking in wine country tour, a remarkable dining experience, a day at the spa or kayaking by moonlight it's all here.

As one wise person once said, "Everything is just better in Sonoma-the wine, the food, fruits and vegetables, the comforts of living. Everything is wonderful!"

Be sure to sign up for our newsletter so you will be first to know of new additions.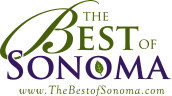 Sonoma Vendors: Take advantage of our New Members Special!
View promotion details or call me directly at 707-696-1578.
Doug Suma
President and CEO
The Best of Sonoma