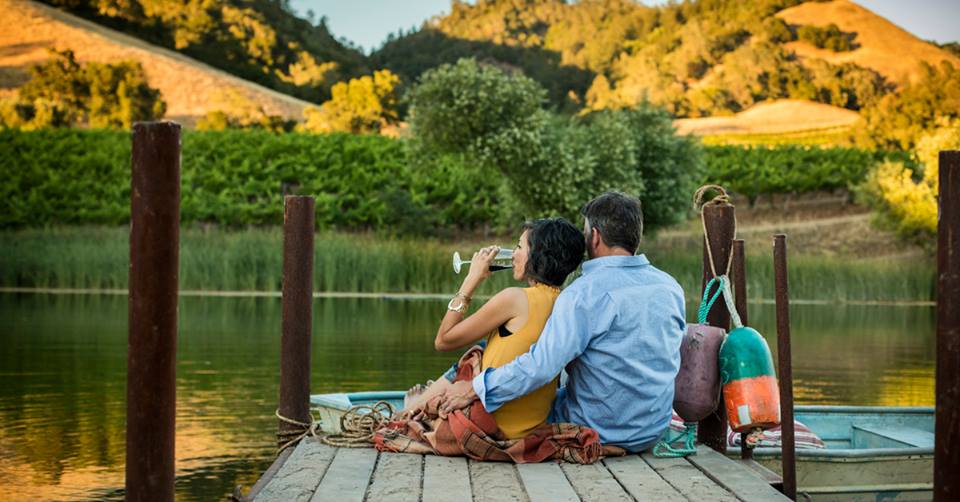 Sonoma County is big — 1,768 square miles, to be exact, with 55 miles stretched along the Pacific Ocean. It's also a gorgeous, geographically-diverse paradise, home to steep mountains, broad valleys, lakes, rivers, marshes, sandy beaches, flower-filled meadows, and groves of redwood trees.
That's why camping here is so amazing. Campgrounds anywhere tend to be located in beautiful, activity-laden locations, and Sonoma County is no exception. On a camping vacation here, your tent or RV will be set in one the most beautiful spots on earth.
As for camping options, they run the gamut from roughing it in an undeveloped back-country site to chillin' in your super-comfy RV (with stops along the way for tents or simple-to-luxe camping cabins).
Camping is fun, budget-friendly, and a great way to build adventurous memories with loved ones. You'll catch fish, take a hike, add new birds to your life list, photograph rare wildflowers, explore tide pools, paddle a canoe. At night you'll gab into the wee hours around the campfire or take a walk on the beach with stars blazing above.
Just one problem: In a county so big, beautiful, and incredibly varied, how do you even begin to figure out where to throw down your sleeping bag or park your camper?
Easy. Just read this guide. Find our complete Sonoma County campground listings here.
Written by Sonoma Insider Suzie Rodriguez.
Written by Sonoma Insider Suzie Rodriguez
Get the FREE Visitors Guide and Wine Map
Discover Things to Do
Browse Wineries & Wine
Find Hotels & Lodging and Deals
With redwood forests, mountains, streams, lakes, rivers, beaches, and other natural wonders, Sonoma County's 11 state parks capture the county's beauty and diversity. Four state parks offer camping.
Austin Creek State Recreation Area: With nearly 6,000 acres and 20 miles of trails running through meadows, woodlands, and across rolling hills, Austin Creek is a recreational dream (it's also adjacent to Armstrong Redwoods State Natural Reserve with its majestic groves of redwood trees).
Austin has 23 campsites on a secluded pond available on a first-come, first-served basis for tent- or car-camping (no hook-ups or trailer sites). Three primitive back-country campsites with table and fire ring, but no potable water, are also available after a three- to five-mile hike (also on a first-come basis). For more camping information, visit the Stewards of the Coast and Redwoods.
Salt Point State Park: Located on the county's far northern coast, Salt Point has 20 miles of hiking trails, more than six miles of rugged coastline, and an underwater park. The many recreational activities here include hiking, horseback riding, fishing, and skin/scuba diving. There are two main campgrounds, as well as sites for group camping and those who hike or cycle in:
Gerstle Cove atop bluffs overlooking the Pacific Ocean, contains 30 family campsites.
Woodside Campground on the east side of Highway 1 holds 79 sites.
Group camping on the ocean side of Highway 1 accommodates a maximum of 40 people.
Hikers and Bikers can use 10 sites located behind the ranger office.
To learn more about Salt Point's campsites and/or to reserve a site, visit Reserve America.
Sonoma Coast State Park is a series of beaches, separated by rock bluffs and headlands, that stretch north along the coast from Bodega Head to four miles past Jenner (a total of 17 miles). This park offers some of the most beautiful campsites you'll ever find anywhere. Campsites are in three locations.
Wright's Beach has 27 developed campsites adjacent to the beach. Maximum trailer length is 27 feet; no hook-ups available. Reservations recommended.
Bodega Dunes offers 98 campsites with hot showers, flush toilets, and a trailer sanitation dump station. Maximum trailer length is 31 feet; no hook-ups available. Campfire and Junior Ranger programs held during the summer. Day use area includes a disabled-accessible boardwalk out to a classic sandy beach. Reservations recommended.
Willow Creek Environmental Camp, closed in winter, offers 11 primitive campsites with fire rings, pit toilets and tables, within one-quarter mile of the parking lot. No running water. First-come, first-served.
To learn more about the campsites or make a reservation, visit the Stewards of the Coast and Redwoods.
Sugarloaf Ridge State Park: Nestled into the majestic Mayacamas Mountains between Sonoma and Napa valleys, Sugarloaf Ridge holds the headwaters of 33-mile-long Sonoma Creek, a 25-foot seasonal waterfall, and 2,729-foot Bald Mountain.
The nearly 4,000-acre park is known for fabulous hiking through tree-covered ridges and a canyon redwood forest. Sugarloaf has 47 family campsites in a large meadow; sites accommodate RVs up to 27 feet long and campers up to 23 feet. Each site has a table and fire ring; flush toilets and drinking water are nearby. A group campsite, capable of handling 50, is available. Download a park brochure and camping map; learn more or make a reservation at Reserve America.
To learn about all of Sonoma County's 11 state parks, read our "Guide to Sonoma County State Parks."
Sonoma County's Regional Park Campgrounds
Sonoma County's thriving regional park system consists of more than 50 parks — including trails and open spaces — and encompasses nearly 60,000 acres. Parks run the length and breadth of the county, stretching north from Bodega Bay to The Sea Ranch and Gualala, and east from the Pacific Ocean to Sonoma Valley.
Six of the regional parks offer a total of 268 campsites.
Doran Regional Park: Just south of Bodega Bay, Doran is situated on a lovely two-mile-long sandy beach; it's a popular spot to picnic, build sand castles, fly kites, surf, fish, and stroll.
The campground is open year-round, with 112 reservable, first-come campsites and one hiker/cyclist group site. Restrooms with electrical outlets, flush toilets, and coin-operated showers; no RV hook-ups. A free EV charging station is located in the Cypress Day-Use parking lot. Download a Doran campsite map. 201 Doran Beach Road, Bodega Bay, 707-565-2041
Gualala Point Regional Park: Located on the far northern coast, where the Gualala River enters the Pacific Ocean, the campground nestles under redwood trees beside the river within walking distance of the crashing surf.
There are 18 reservable campsites, as well as non-reservable sites intended for hikers and cyclists. Amenities include flush toilets, electrical outlets, coin-operated shower, dump station; no RV hook-ups. Download a map of Gualala Point Regional Park. 42401 Highway 1, The Sea Ranch, CA 95497, 707-785-2377
Hood Mountain Regional Park and Open Space Preserve, with nearly 2,000 acres on the northern end of Sonoma Valley, offers 19 miles of hiking trails with sweeping views as the trails ascend (the view from Gunsight Rock is often written about).
Camping here, with four environmental campsites reachable after a two-mile hike from a parking lot, is geared to backpackers. One site is for groups, with three tables and room for seven tents. Sites contain tables, food lockers, and tent pads, with primitive toilets nearby.
You must carry in drinking water. Campfires not allowed; cooking stoves are permitted. Please pack trash out. Download a Hood Mountain map. 1450 Pythian Road, Santa Rosa, 707-539-8092.
Spring Lake Regional Park: North of Sonoma Valley and located on the bucolic outskirts of Santa Rosa, Spring Lake is the most-used regional park in the county, thanks to its beautiful setting, swimming lagoon, lakeside grill, small boating lake, hiking trails and other activities.
The park's individual campsites are available daily from May 1-Sept. 30 (the rest of the year it's only open on weekends and holidays). A group campground is available, by reservation only, throughout the year. Download a map of Spring Lake Regional Park. 393 Violetti Road, Santa Rosa, 707-539-8092.
Stillwater Cove Regional Park: Located on the Pacific Ocean in Jenner (near Fort Ross State Historic Park), Stillwater offers fabulous ocean-view hiking, a beach launch suitable for kayaks and other small boats, and immensely popular abalone diving.
Stillwater has more than 20 reservable campsites available (two with disabled access), as well as a hiker/bicyclist group site. Amenities include coin-operated showers, flush toilets, a dump station, and electrical outlets; no RV hook-ups. Download a Stillwater Cove campsite map. 22455 Highway 1, Jenner, 707-847-3245.
Westside Regional Park: On the north side of Bodega Bay, this campground is tucked away from crowds in a beautiful setting. It offers a boat ramp and both a boat-rinsing and fish-cleaning station, and is near stores and tackle shops.
Westside has nearly 47 trailer/camper sites available (two are configured for disabled access), along with restrooms that have electrical outlets, flush toilets, and coin-operated showers; no RV hook-ups. Download a Westside campsite map. 2400 Westshore Road, Bodega Bay, 707-875-3540.
Tips for camping in regional parks
Most campsites offer a fire ring and picnic table, with showers, flush toilets, and potable water are nearby. You can see a chart of individual park amenities and/or make reservations with Sonoma County Regional Parks.
All campgrounds have a certain number of sites with disabled access.
Individual sites cost $35 per night. Rates include one vehicle and one tow per site. Get one free night of camping with a Regional Parks membership.
For a comprehensive overview of Sonoma County Regional Parks, read our "Guide to the Sonoma County Regional Park System."
Lake Sonoma Campsites (managed by US Army Corps of Engineers)
Geyserville's Lake Sonoma — with 2,700 acres of lake surface and 50 miles of shoreline — was created by the Army Corps of Engineers in 1983 during construction of Warm Springs Dam. The lake, surrounded by steep hills and vineyards, offers extensive opportunities for recreation, including hiking, swimming, horseback riding, archery, fishing, hunting, boating and camping.
Lake Sonoma has two different types of campsites:
Boat-in Camping: There are 106 boat-in campsites scattered along the lake's two lengthy arms. Each "primitive" camp site has its own fire ring, picnic table, and lantern holder, and chemical toilets are available. However, you'll have to bring your own drinking water or a dependable filter device for purifying lake water.
Reservations for boat-in camping sites required. If you don't have a boat, Lake Sonoma Marina rents anything from a one-person kayak to a double-decker patio boat for 12. Download a boat-in information sheet and/or campground maps.
RV/Tent Camping: Liberty Glen Campground at Lake Sonoma has 97 drive-in campsites for RVs and tent campers (no electrical or water hook-ups available). Reservations for campsites are required. During the summer there are many campfire programs and special events. Download Liberty Glen Info and Campground Map.
– See more at: http://www.sonomacounty.com/articles/guide-camping-sonoma-county#sthash.zaMxZGmA.dpuf