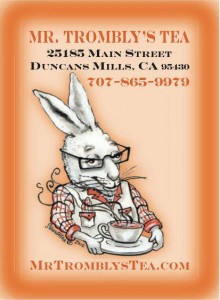 Mr Trombly's Tea
25185 Main St.
Duncans Mills, Ca. 95430
707-865-9979
Mr. Trombly's Tea shop, purveyors of all things tea, is owned and operated by tea aficionado Brian Trombly. Mr. Trombly's offers over 150 different teas to tantalize your taste buds. Teas from China, Thailand, Japan and India fill this cozy shop with delicate and exotic fragrances.
There is always a fresh pot of tea brewing for you to enjoy a complimentary cup.
Mr. Trombly's also has a vast selection of new and vintage tea pots and tea services as well as all the items necessary to make that perfect cup of tea.